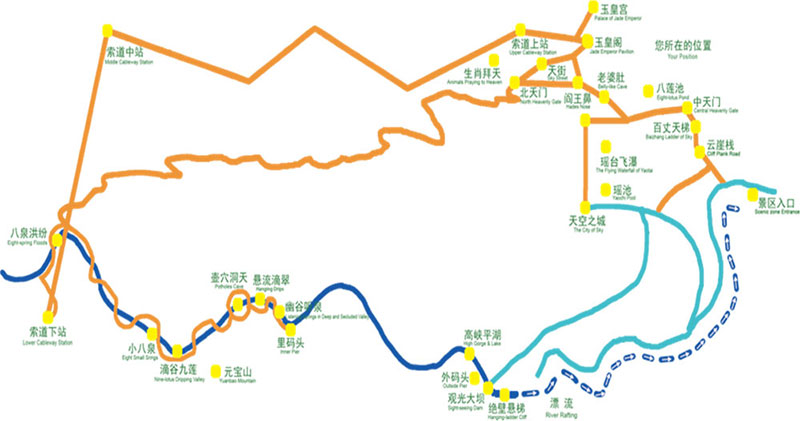 An Overview of Eight-spring Gorge Scenic Area
The Eight Spring Gorge is a magnificent and fascinating tourist attraction in Taihang Mountain Grand Canyon. It has a highest elevation of over 1700 meters, a lowest elevation of more than 600 meters, a total length of 13 kilometers, and a drainage area of 60.33 square kilometers. It is home to more than 300 springheads and 30 waterfalls. There are eight major streams from the same springhead in the middle to rear section of the gorge, and in the middle section, there are two springheads from which eight streams flow. All the three springheads have eight streams, so this gorge is renamed as the "Eight Spring Gorge". The natural landscape of the Eight Spring Gorge forms delightful contrast with the modern world. Featuring all three of the land tour, water tour and sky tour, it boasts more than 100 attractions, including the Harbinger of Dawn, the Eight Spring Cloud Ladder, the Heavenly Hillside Gate, the Heavenly Northern Gate, the Jade Emperor Pavilion, the Heavenly Southern Gate, the Twelve Zodiac Animals, the Jade Pool, the Elevator Square, the Spatio-temporal Tunnel, the Gorge Lake, the Immortal Monkey Valley, the Small Eight Spring, the Medium Eight Spring, the Large Eight Spring, and so on and so forth. The Eight Spring Gorge is "World Class Tourist Resource", the "Grandest Gorge of Taihang Mountain", and an optimal destination for sightseeing, ecotourism, geological study and leisure tours.
The most relaxed and enjoyable route of sightseeing bus cruise ship cableway Jade Palace sky city sightseeing elevator sightseeing bus tour time is about 2 hours
The most challenging route of sightseeing bus sightseeing elevator Sky City Jade Palace cableway cruise ship sightseeing bus tour time is about 2.5 hours
Tourists walk along the pedestrian walkway Yunya Trestle Zhongtianmen Balianchi Sky City North Tianmen Jade Palace for about three and a half hours.
The First Bus Route Map of Baquanxia Scenic Spot - 7:00 End - 19:00 Interval - 20 Minutes
West Tourist Center Ma'an Camel Heilongtan Zituantong Scenic Area Zhuang Zeshang Hongdouxia Scenic Area Pandi Wangjiazhuang Sandy Beach Bridge Upper Town Baquanxia Scenic Area Bridge Back Gully Dingjiayan Qinglongxia Scenic Area Dahe Yangjiachi Nanling Dongchuan bottom Tourist Center